ASTRAL VINYL
Reviews New Age (reviewsnewage.com) has a glowing review of Astral Vinyl here. Note: Review is in Spanish.
Good evening! My name is Thomas Deneuville, the editor of I Care if You Listen, a blog about New Classical Music. I just wanted to mention Matt Weber's review of Astral Vinyl on our modest pages here.
Here's a new review of ASTRAL VINYL fromItalian review website Kathodik. You can read a (rough!) translation here.
Another fantastic review of ASTRAL VINYL, this time from review website Audiophile Audition. You can read it in full here.
Here's a great review of ASTRAL VINYL that recently came out in the Austin Chronicle. You can read it in full here.
Canadian radio host and music blogger, Monsieur Delire, posted a short-but-sweet write-up in his "ListeningDiary."
You can read it in full here.
---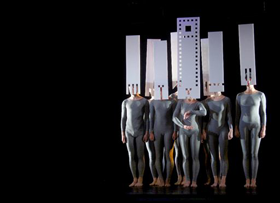 The Only Tribe
Wednesday, December 3rd, 2008:
Opening Night
Wednesday, December 3rd!
Previews Begin Today, November 28
TOT & Lumo
Photo by Sheree Hovsepian
Tickets On Sale Now!

The Only Tribe runs November 28th - December 20th, Wednesdays - Saturdays at 8pm and Sundays at 3pm. 3LD Art & Technology Center is located at 80 Greenwich Street (at Rector Street - accessible from the 1 train at Rector Street). Tickets are $30 (previews $20), $15 for students at 212-352-3101 or www.ovationtix.com/trs/pr/76342
Find out more about The Only Tribe at www.theonlytribe.com
The production of The Only Tribe is made possible in part by a grant from The Greenwall Foundation. Support for this 3LD Artist Residency was provided by American Express. We also would like to thank our friends for their support, without which the production of The Only Tribe would not be possible.
---
Tribalism Is Theme of Masked Performance
November, 2008: The Tribeca Trib Article (jpg)
---
Merchant partners with Pops, has never sounded quite so right
May 28, 2008: The Boston Globe Review (pdf)

---
The Road to Austin:
Live Music Capital of the World
Saturday, May 19, 2007: Free concert and event is designed to create a heightened understanding and excitement of how and why Austin, Texas has become known as the "live music capital of the world." Get a summary of the event, backstory, and what to expect here.
---
The Only Tribe™
The Only Tribe™ is Roland Gebhardt's abstract interpretation of a short story by Rebecca Bannor-Addae featuring masks by Roland. The stage performance will utilize dance, sound, light, and projected images to explore issues of tribal/societal interaction and identity. Find out more.